Attorney at Law | Personal Injury Law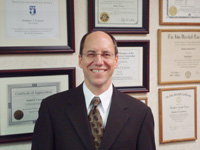 Stephen J. Caron, Attorney at Law, graduated magna cum laude from John Marshall Law School in 1984. Upon graduation he started practice in Chicago at a law firm primarily representing the catastrophically injured and families of victims of wrongful death. Mr. Caron graduated from the University of Illinois College of Pharmacy in 1978. His previous experience in both retail and hospital pharmacy continues to provide a medical background helpful in coordinating medical evidence for his clients. He is a member of the Illinois Trial Lawyers Association, American Association for Justice, and Illinois State Bar Association, and an author of an Illinois Institute for Continuing Legal Education Dramshop Practice Handbook.
Mr. Caron has represented injured clients in trial courts throughout Illinois in cases arising out of motor vehicle collisions, falls, medical malpractice, products liability and construction injuries. He has presented cases to the Illinois Appellate and Supreme Courts. Originally from Rockford and currently living in the Chicago area, he continues to welcome clients from the entire State of Illinois.