Attorney at Law | Workers Compensation | Civil Litigation | Social Security Disability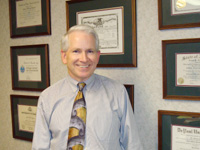 Robert W. Burnett, Attorney At Law, is a 1981 graduate of DePaul University College of Law. Since becoming an attorney more than thirty five years ago he has always concentrated his practice in representing injured working men and women. Prior to law school, he graduated from the University of Illinois College of Pharmacy and remains a licensed pharmacist. This medical background serves his clients well as he evaluates and presents medical evidence and physician depositions.
Mr. Burnett concentrates his practice in Workers Compensation Law, Civil Litigation and Social Security Disability Appeals. Many of his clients will have all three types of claims arising out of the same accident. Although most cases are resolved short of an appeal process, Mr. Burnett has presented cases to the Illinois Appellate and Supreme Courts on several occasions. While living in the Chicago area now, he is from east central Illinois and is able to represent injured working men and women throughout the state.